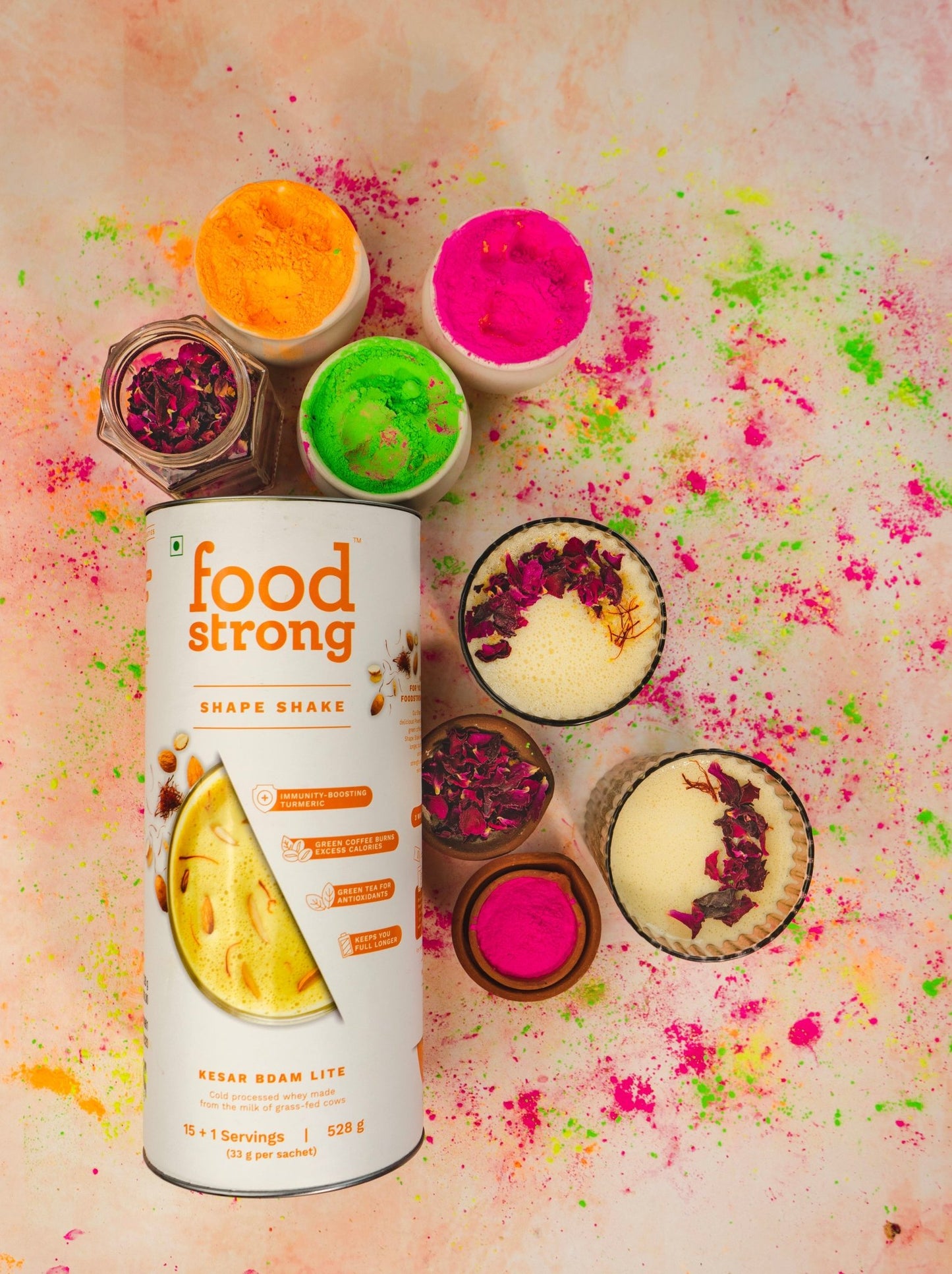 Holi is just around the corner and what makes Holi special is a refreshing glass of - Kesar Badam Thandai. Thandai is packed with super healthy ingredients and this recipe is sure to boost energy, beat the summer heat, and also help in digestion. We call it the wonder drink as it's low on calories and is super healthy when made using Foodstrong's Kesar Badam Lite.
Nutritional Value: per serving
| | |
| --- | --- |
| Calories- 368.8 Kcal | Carbs- 10.22 g |
| Protein- 79.4 g  | Fat- 1.20 g |
Ingredients: 
200 ml of milk of your choice (Cow/Almond/Cashew/Coconut milk) 

1 sachet of foodstrong Shape Shake Kesar Badam Lite

2 tbsp Almonds

3 tbsp Pistachios

¼ cup Melon Seeds

2 tbsp Poppy Seeds

3 tbsp Dried Rose Petals

2 tbsp Fennel Seeds

½ tsp Pepper

1 cup Warm Water

3 pods Cardamom Seeds
Toppings(optional)
Almond Flakes

Rose Petals
 Preparation:
Soak the Almonds, Pistachios, Melon Seeds, Poppy Seeds, Dried Rose Petals, Fennel Seeds, Pepper in 1 cup of warm water for over an hour. 

Once the ingredients are soaked, add cardamom seeds and grind the mix in a grinder till you get a paste-like consistency.

Add 2 tbsp of this Thandai paste to the blender, pour milk, slash open the Foodstrong Kesar Badam Lite into the mixer, and blend!

In a glass, add a few ice cubes and pour the Kesar Badam Thandai.

Garnish with almond flakes, rose petals, and enjoy the power-packed, low on calories wonder drink!
This blend tastes best when you have it with fresh and in cold milk.