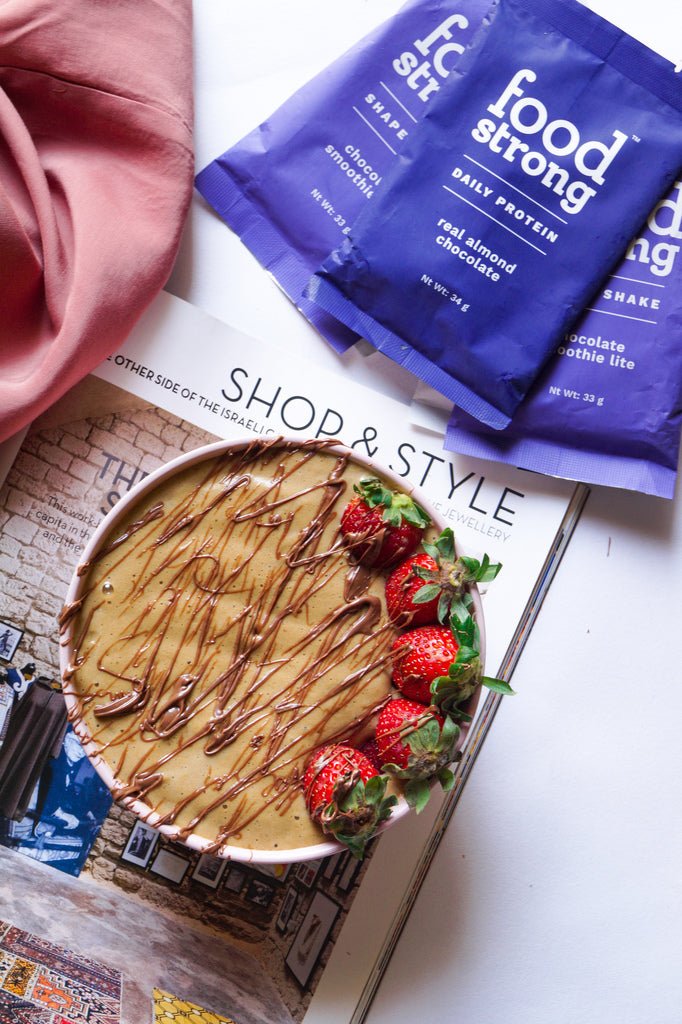 Power charge your day with this decadent Chocolate Avocado Banana smoothie bowl that's loaded with nutrients and is super easy to whip up. Avocado is an excellent ingredient as it is rich in fibre, healthy for the heart, and great for digestion. It's healthy, creamy, delicious and also helps in shedding those extra kilos- what's not to love?
Here's a super healthy smoothie recipe that is incredibly creamy and delicious, packed with so many nutrients and loaded with SUPERFOODS. It's filling, super easy to make and has the optimum protein for your snack.
Nutritional Value: per serving
| | |
| --- | --- |
| Calories- 365.71 Kcal  | Carbs- 49.60 g |
| Protein- 33.84 g  | Fat- 33.33 g |
Ingredients:
200 ml of milk of your choice (Cow/Almond/Cashew/Coconut milk) 

1 sachet of Foodstrong Daily Protein Real Almond Chocolate

½ ripe Avocado

1 frozen banana
Toppings(optional)
Almond-Choco Butter 
Fresh Fruits
Method:
Peel and roughly chop the banana

Pour milk into the blender, add chopped Banana slices, sliced Avocado into the mix

Slash open the Daily Protein Real Almond Chocolate sachet into the blender

Time to blend. Blend till you get a thicker creamy consistency

Pour the smoothie into a bowl

Top it with fresh fruits and almond-choco butter

And enjoy your Avocado Banana Almond Chocolate Smoothie
This blend tastes best when you have it with fresh and in cold milk. It's sure to give you energy, antioxidants and the goodness of grass-fed whey protein.