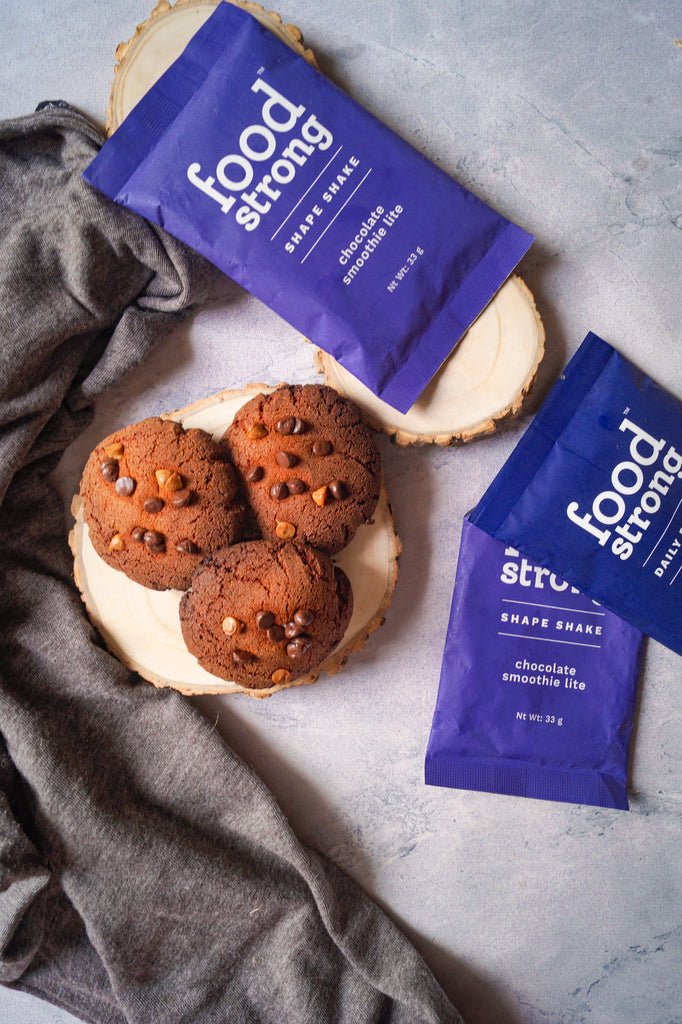 Who doesn't love a good Chocolate Chip Cookie? Studded with chocolate chips, made with lots of cocoa and loaded with the goodness of Foodstrong grass fed whey protein. We promise you that these cookies are low in carbs, high in fiber, absolutely delicious and can be whipped in no time at all. Additionally, this recipe is gluten free so you can snack on them - guilt free!
Nutritional Value: per serving
Calories- 310.14 Kcal 

Fat-

 

23.50 g

Ingredients: 
1 sachet of Foodstrong Shape Shake Chocolate Smoothie Lite

25 grams melted butter

2 tbsp Maple Syrup/Date Syrup
Toppings(optional)
Preparation:
Preheat an oven to 140°c for 5-7mins 

In a bowl, add melted butter and maple syrup and whisk it until mixed properly

Add the the Foodstrong Shape Shake Chocolate Smoothie Lite sachet into the bowl and

mix everything together until it forms a dough

Now make small balls of the dough and place them on the parchment paper/baking tray

Slightly flatten the dough balls and add choco chips on top

Bake for 5-7 minutes in the preheated oven

Cool for 5-10mins a

nd Voila! You have your power-packed yummy chocolate chip cookies.

This recipe is sure to boost your energy and satisfy your hunger pangs!