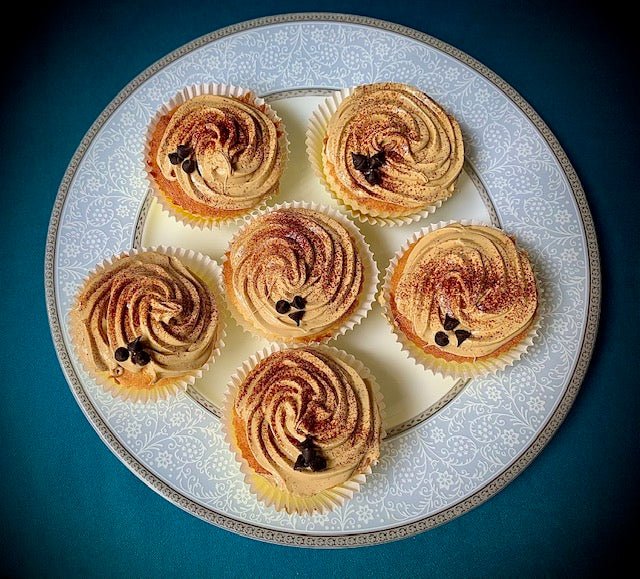 Cupcakes with a Foodstrong spin!
Recipe By: Richa Singhal (@richkraft)
Our happy customer, Richa has very lovingly crafted this healthy cupcake recipe that is absolutely delish and healthy to snack on. Fluffy, moist, and filled with protein- just the way we like our binge, this recipe is low on carbs, low on fats, and is packed with dietary fiber and other nutrients.
Nutritional Value: per serving
Calories- 119.72 Kcal 

Fat-

 

0.40 g
Ingredients: 
1 Cup Gluten-Free flour

¾ tsp Baking Soda

Salt

 ¾ cup cane sugar

200 ml of milk of your choice (Cow/Almond/Cashew/Coconut milk) 

⅓ cup wood pressed oil

1 egg or egg replacer

½ tsp natural Vanilla extract

1 sachet of Foodstrong Shape Shake Kesar Badaam Lite

1 tbsp of whipping cream powder
Toppings(optional)
Preparation:
Preheat oven to 175 degrees C and grease the cupcake moulds. 

Add 1 cup gluten-free flour, 3/4 tsp baking soda, and a pinch of salt in a bowl and mix well. 

In another large bowl add 3/4 cup cane sugar, 1/2 cup milk/butter milk, 1/3 cup wood pressed oil, 1 small egg/egg replacer, 1/2 tsp natural vanilla extract and mix well. 

Now add the flour mixture (using a sieve) and mix together. Don't overwhip, should be around 10 turns of your spatula. 

Now evenly distribute the cake batter into your moulds (half fill as cupcakes will rise). 

Place the mould in the oven and bake until a toothpick inserted in the center comes out clean, about 20 to 30 minutes. 

Remove from the oven and allow them to cool completely. 

In the meanwhile, take 1 sachet of Foodstrong 

Cold Coffee Shape Shake, 1 tbsp of whipping cream powder, and whip with milk as needed till fluffy (alternatively you can mix 1 sachet of

@foodstrong.co

cold coffee with whipping cream). 

Frost the cupcake with this protein cream icing and coffee dust and Voila!
A little bit about the author:
Richa is a Banker by profession and a Baker by passion. She loves melted cheese, cakes and is an amazing cook. Check out more of her work on her instagram page (@richkraft) to share the love!