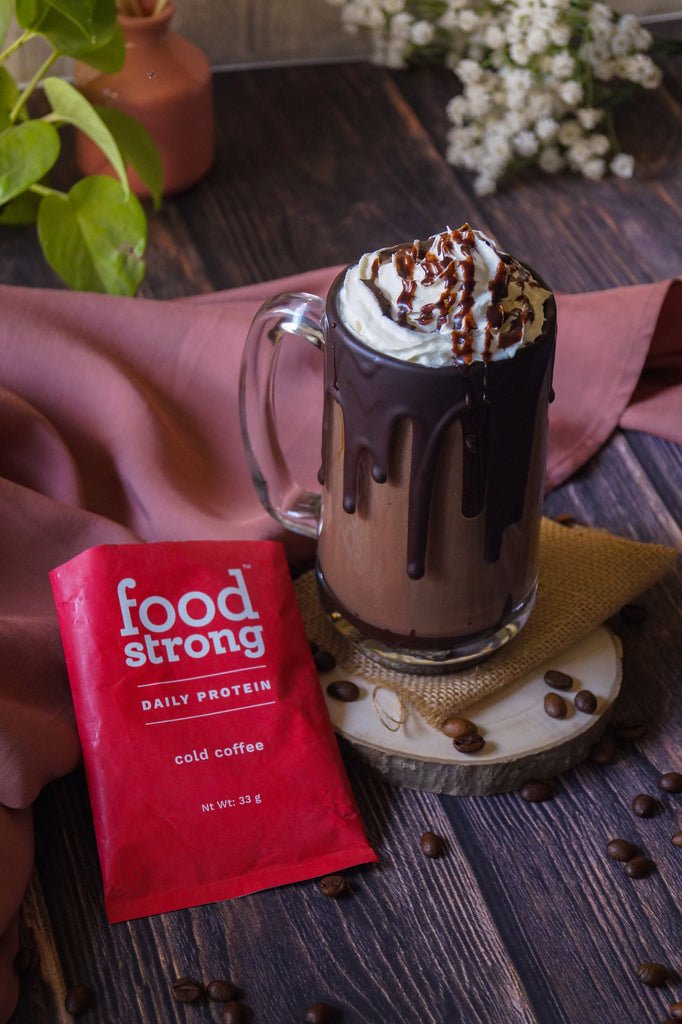 Creamy Mocha sauce with sea salt that is stirred with Foodstrong Cold Coffee Daily Protein - a delightful combination with the goodness of protein! This heartwarming recipe is irresistibly delicious and you are sure to love this extraordinary coffee that takes just minutes to prepare!
Nutritional Value: per serving
| | |
| --- | --- |
| Calories- 340 Kcal  | Carbs- 55 g |
| Protein- 34.93 g | Fat- 9 g |
Ingredients:
200 ml of milk of your choice (Cow/Almond/Cashew/Coconut milk) 

1 sachet of foodstrong Daily Protein Cold Coffee

50-60gm of dark chocolate compound

1-1½ Tsp sea salt

4-5 ice cubes
Toppings(optional)
Whipping Cream
Chocolate Sauce
Method:
Over a double boiler, melt the dark chocolate over a double boiler

Once melted, remove it from heat and add sea salt. Mix it together

Cover the rim of glass with melted chocolate and keep it in refrigerator for 10 minutes

Add the ice, milk, Cold Coffee Daily Protein and rest of the melted chocolate in a blender and blend it for 2mins until well combined

Pour it in the glass

Add a pinch of sea salt with whipping cream and combine it well until stiff peak appears

Top the cold coffee with whipping cream and some Chocolate sauce and Enjoy!
This blend tastes best when you have it with fresh and in cold milk. It's sure to give you energy, antioxidants and the goodness of grass-fed whey protein.