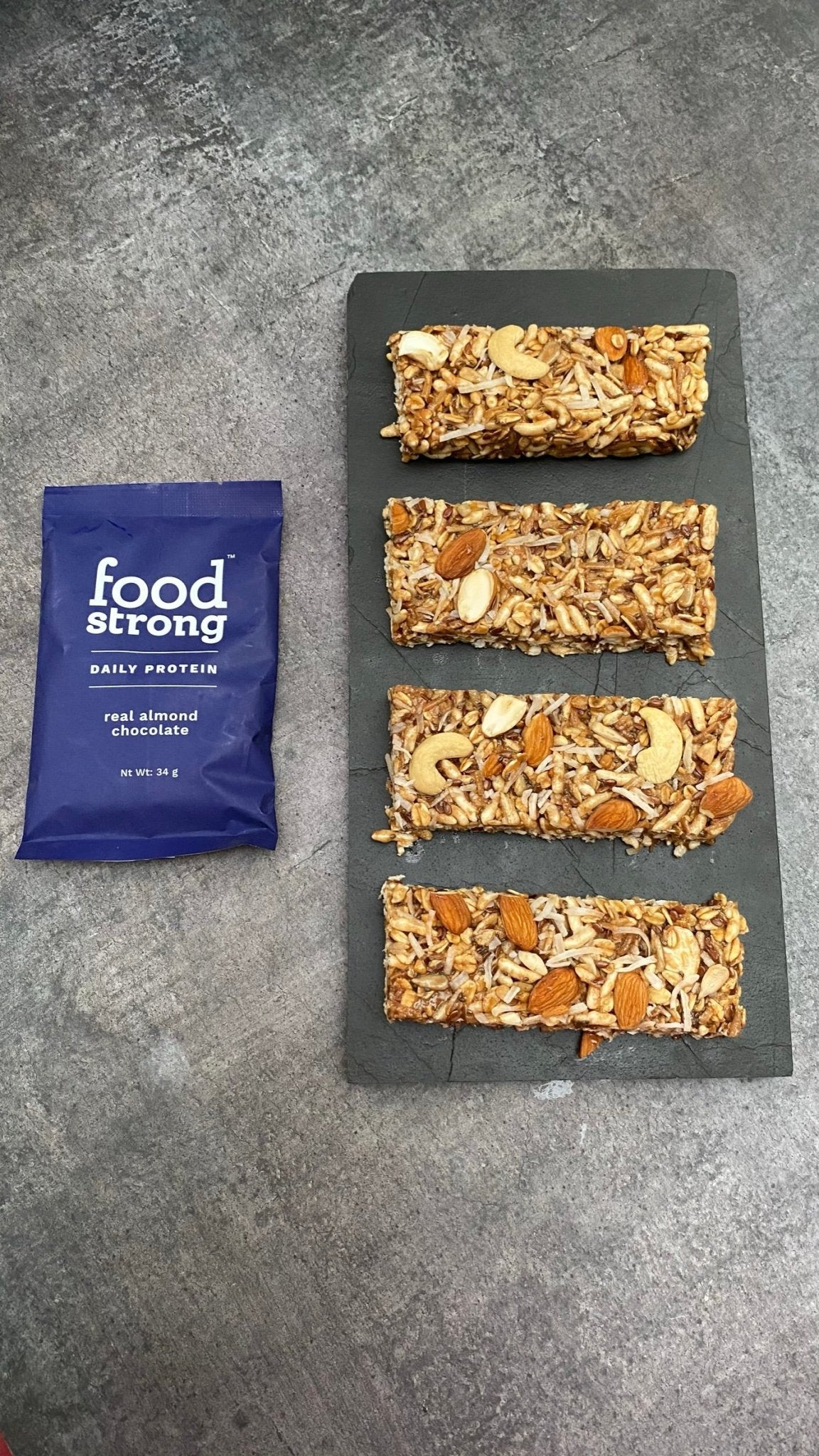 Protein Barfi just happens to be the most satisfying chewy snack to grab before or after an intense workout. But they taste so sweet that they can easily qualify as a dessert.  Delicious, packed with nutrition, loaded with fiber and lots of nuts- these bars offer a whole lot of nutrients and are powered with turmeric that further helps in healing and faster muscle recovery. This no-bake recipe is so insanely good that you are sure to get obsessed with these barfis made with our Daily Protein Real Almond Chocolate.
Nutritional Value: per serving
| | |
| --- | --- |
| Calories- 352.91 Kcal  | Carbs- 46.8 g |
| Protein- 30.54 g  | Fat- 6.93 g |
Ingredients:
1 cup Rolled Oats

1 cup Puffed Rice

1 sachet of foodstrong Daily Protein Real Almond Chocolate

¼ cup Sunflower seeds

¼ cup Flax seeds

¼ cup Grated Coconut

½ tsp Salt

1 tbsp Cinnamon Powder

¼ cup Chia seeds

¼ cup Cashews

¼ cup Almonds
For the Sauce- 
¼ cup Coconut Oil

½ cup Honey

½ cup Peanut Butter 
Method:
In a large bowl, add rolled oats, rice, sunflower seeds, flax seeds, grated coconut, salt, cinnamon powder, chia seeds, cashews, almonds and foodstrong real almond chocolate protein and stir to mix it well.

Heat a pot, add coconut oil, honey, and peanut butter

Let it cook till everything melts and turns into a smooth sauce. 

Add the sauce to your dry ingredients and mix the blend quickly to avoid lumps.

Now transfer the batter in a lined baking tray and press it tightly.

Pressing tight is very important to hold the shape of the bar. 

After setting, let it sit in the fridge for 3-4 hours.

Take it out and cut in bars, cover with baking paper, and store in the fridge.