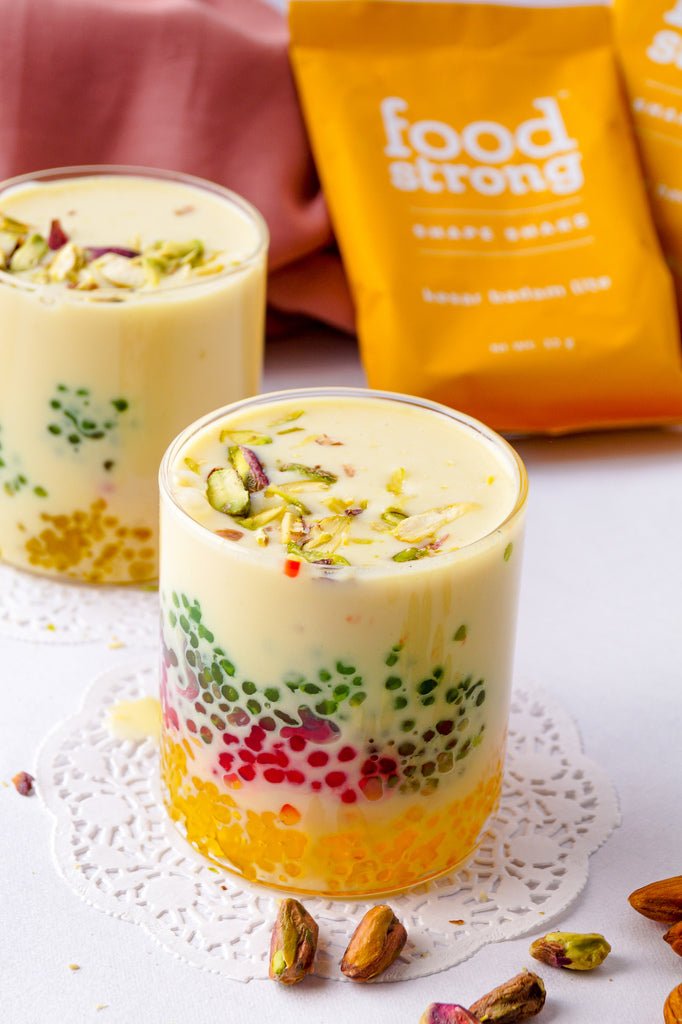 Kheer is one of the staple Indian Desserts and it is prepared while celebrating most festivals in India . We have a healthier version of this widely loved dessert which is made with Sago and our Kesar Badaam Lite Shape Shake. This recipe is absolutely delish, healthy, and will instantly become one of your favorites.  
Nutritional Value: per serving
Calories- 302 Kcal 

Fat-

 

12.3 g
Ingredients: 
¼ Cup Sago 

200 ml of milk of your choice (Cow/Almond/Cashew/Coconut milk) 

1 sachet of Foodstrong Shape Shake Kesar Badaam Lite

Stevia / Sugar
Toppings(optional)
Preparation:
Boil ¼ cup Sago until it becomes translucent, run it under cold water.

Heat 200 ml milk and pour it into a bowl.

Add the soaked Sago to the bowl, slash open 1 sachet of Foodstrong 

Kesar Badam Lite, and mix it well.

Pour this delicious mix into a glass and Voila- enjoy your healthy dessert.

You can add  a bit of stevia/sugar to increase sweetness if required.

Don't forget to garnish it with some Dry Fruits.
This amazing recipe by Akanksha (@foodiee_globetrotter) doesn't just look like a million bucks, it's an absolute taste festival on your tongue. Filled with the goodness of Foodstrong's grass fed whey!